Prof. (Dr.) Minal Chaudhary
1981 Batch MDS -Oral Pathology MDS-Orthodontics Director Professor in Oral Pathology SPDC Director School of Oral OncologyDirector Examination. Assessment and Evaluation Datta Meghe Institute of Medical Sciences
February 7, 2022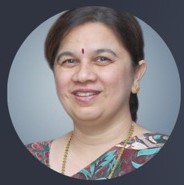 Prof. (Dr.) Minal Chaudhary
Government Dental College and Hospital Nagpur is not
a syllable but an emotion. Just thinking of my Alma mater brings numerous fond memories to me. This is the place which initiated my growth as a professional and nurtured my talents by honing my meagre skills with lot of patience and affection. GDC Nagpur is the place where I came in contact with my mentors and my lifelong friends who in numerous ways are responsible for my growth as a professional and development as a
person. Our teachers were doyens in their field yet so humble and grounded that they left lasting impressions in our minds and put in front of us role models of impossibly high standards. GCH Nagpur is not just made up of bricks and stones but it is made up of the tireless efforts of the teachers and administrators of the last 50 years and also the hopes and aspirations of numerous young and impressionable students who have been fortunate enough to be taken into it's loving folds. I shall forever be in debt of this magnificent institute and the teachers who shaped it into one of
the finest teaching and clinical hospitals of India.